Custom Kitchen Cabinets
It takes extraordinary skills to build refined and sophisticated custom cabinetry: craftsmanship, artistry, and a fine eye for details.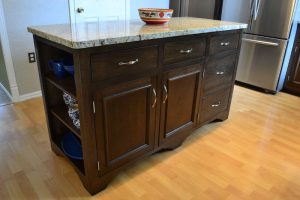 Randy, Byron, and Natalie can help you plan your new custom kitchen, built-ins, home office, or bar. We will walk you through all the stages of designing your project. Your custom kitchen or built-ins can be any color paint or stain. Distressing and glazing are just two of the many ways to create unique custom details. The options are endless.
Let Stockman Woodworks create custom kitchen cabinets and furniture that make your space a one-of-a-kind.